Still using Microsoft Windows 7? Think you need to buy a new computer after January 2020? Think again...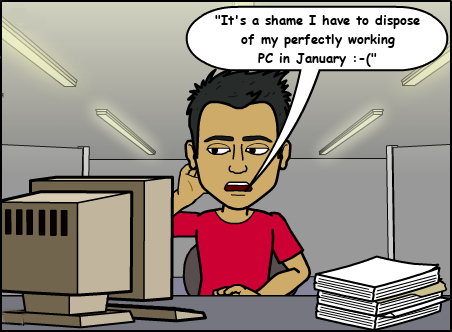 The Microsoft end of support date for their Windows 7 product is fast approaching
On January 14th 2020, Microsoft are scheduled to end support for their Microsoft Windows 7 product. This means that they will not be releasing anymore security updates or fixing flaws that are discovered in Microsoft Windows 7.
This is bad news for users of Microsoft Windows 7, of which there are still some 35% still using it for business and personal use (https://www.computerworld.com/article/3199373/windows-by-the-numbers-windows-10-user-share-surges-as-loafers-heed-impending-deadline.html).  Hopefully your computer systems have already been migrated to a newer platform and away from Microsoft Windows 7, but if not, we would highly recommend considering the change.  If you are one of those users, you have four choices at hand:
1. Continue using Microsoft Windows 7 after January 14th 2020.

Your computer will be more open to viruses/spyware and other malicious attacks. Your online safety will be compromised. We suggest not using the computer for accessing services where you divulge personal information including banking, email and online shopping.  Preferably, do not continue to use the computer connected to the Internet, only as a standalone machine.
2. Upgrade your existing computer hardware to be Microsoft Windows 10 compatible.

Purchase Microsoft Windows 10 and replace Microsoft Windows 7 with it. You will be safer online than using Microsoft Windows 7 but still ensure you purchase antivirus and antispyware products to ward off the most prominent threats. Many Microsoft Windows 7 computers will not be cost effective to upgrade for Microsoft Windows 10, you may therefore need to implement either of the next two options. 

Microsoft Windows 10 Home when legally purchased from Microsoft currently costs £119.99.  Microsoft Windows 10 Professional currently costs £219.99.  It is possible to find cheaper activation codes for Windows 10 on various websites, but be very careful with these - they are often not legitimate and may not work or cause issues later on.  We always recommend purchasing your computer software from the original manufacturer. 
3. Dispose of your perfectly working existing computer hardware.

Purchase a brand new computer with Microsoft Windows 10 but still ensure you purchase antivirus and antispyware products to ward off the most prominent threats.  If you choose to dispose of your existing computer equipment, ensure that you have it erased so personal information cannot be recovered from it, we recommend having a 7 pass erase performed on the hard disk drive with zeroing of data.  Corrilan offer this service - contact us for more details.

 
4. Continue to use your existing computer safely, by replacing Microsoft Windows 7 with Ubuntu Linux.

You can download and install Ubuntu Linux (http://www.ubuntu.com/desktop) for your business or home computer system, replacing Microsoft Windows 7 - don't forget to backup your personal data first, you should be taking regular backups anyway. You will still be able to access the Internet, email, wordprocess, create spreadsheets and presentations plus much more. When the next version of Ubuntu is released, you will be able to upgrade free of charge.  Just like an Apple Mac, Ubuntu is not compatible with all software products that you may rely on so this fourth option may not be viable for certain users, but is well worth a consideration - feel free to contact us to discuss if you are unsure.
To discuss your options in more detail please contact Corrilan IT Consultancy Ltd.